Ahhhhhh the holidays. That magical time of year when all I want to do is wear my gingham flannel PJs, blast Christmas music, dance around the kitchen, and bake delicious treats all day. If you, too, feel like celebrating in the kitchen this holiday season, then look no further than these ten festive recipes. From cookies and cakes to cocktails (and even an edible pinecone!), any one of these treats is sure to delight your taste buds and bring a little holiday cheer into your household. I'm personally looking forward to making that peppermint again this year. What are you baking this season?
Cookies and Cream Cookies from Hummingbird High. We all know milk and cookies is the perfect combo (and Santa's favorite snack).
Crispy Chocolate Peanut Butter Cookie Dough Truffles from How Sweet It Is. Because peanut butter drizzle is kind of the best thing ever.
Blood Orange Gin + Tonic with Infused Rosemary Syrup from Local Haven. Citrus plus booze plus fresh herbs that look like baby Christmas trees equals the perfect holiday libation.
Chewy Molasses Cookies from the Twelfth Avenue archives. Bake one batch of these in the oven and your whole house will smell like Christmas.
Peppermint Cake from Camille Styles. Christmas is all about decadence in my book, and this cake is about as rich and decadent as you can get.
Olive Oil and Sea Salt Brownie Cookies from Butterlust. Ever since I tried Salt & Straw's olive oil ice cream, I cannot get enough of olive oil in my sweets.
Coffee Cake from The Pioneer Woman (via the Twelfth Avenue archives). The perfect Christmas morning treat. Make a big pan and feed the whole family.
Iced Oatmeal Cookies from Smitten Kitchen. An oldie, but a goodie.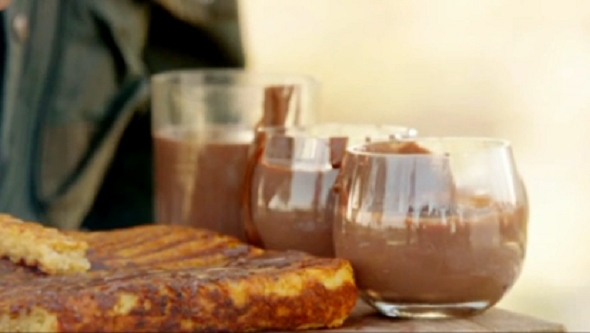 Griddle-Pan Waffles dipped in Epic Hot Chocolate from Jamie Oliver. You'll never think of waffles the same way again.
Snowy Chocolate Pinecones from Handmade Charlotte. Too adorable for words.
xNatalie